Landscaping Design & Consultation
---
A great landscape begins with a great plan. This plan can be as simple as an idea that you may want to add some plants to existing beds or to a full master plan with an outdoor kitchen and fireplace. The first step is to make contact with us and set up a consultation. We will then meet you at your site and make some evaluations to determine what the most cost efficient method is to provide you with some type of plan or possibly just an estimate if you know what it is you want exactly.
An estimate is just that, a price to perform a specific service. We will include exactly what it is we are doing and how the job will be priced. Some projects can be quoted with a firm number and some require a time and material based price.
A plan can be very simple or very involved. A simple plan could be a small hand drawn sketch with some dimensions. A very involved plan can show the entire property with topography and show grade elevations as well as detailed hardscape features and complete planting details. The more involved the plan the greater the plan expense, however the larger the project the more a great plan can save money by creating an efficient time line and preventing mistakes from "winging it."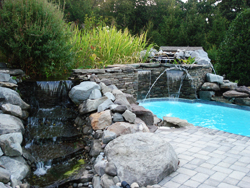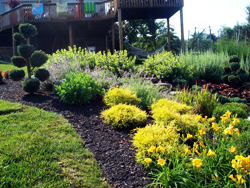 We can perform design task in house or we can provide a registered landscape architect. Either way, there is some preparation on your part prior to the consultation. We do some design in house and if intricate design is needed we work closely with registered landscape architects and registered building architects and can easily refer them to you. We also work closely with Gallagher Pool Company and hence specialize in creating outdoor living areas around pools as well as pool waterfalls, stone coping, decks, and sitting or retaining walls.
We also work closely with master electricians and can design outdoor lighting, which can provide safety and security lights or that special ambiance lighting when entertaining. We also work with a master plumber to hook up the gasline for built in grills and firepits or waterlines for irrigation. Irrigation systems are also provided if wanted or needed.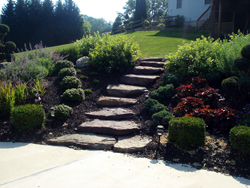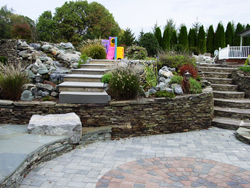 Our experience has taught us not only what methods work most efficiently during construction or installation but which suppliers to use who have the most reliable products for the best value. We work closely with proven local suppliers. We provide our own equipment and labor, only using subcontractors when special occasions call for licensed professionals as cited previously.